Welcome back for another sketch!! It's a new month and so that means we have LOTS to cover! New Guest designer, new sponsor AND August's winner to announce! So let's get at it!!
To begin...
Our sponsor for September is
Gelatins

stamps
!! Each member of the team, along with our Guest Designer was given a set of these amazing stamps to work with!! All month long we will be playing with them and giving you a little explaination as to what we did with them and what set we used!! A HUGE thank you to Gelatins for their generosity!!! These stamps were SO much fun to play with!! Play along this month for your chance to win a set as well!!! :)
Now, We'd like to introduce to you ourt Sept Guest designer
Allison Cope
! Here's a bit about Allison..
Howdy! My name is Ally! I'm a stay at home of one little boy, Spencer and I'm married to the best guy in the world, my husband Todd. Our small family of three live in the wilderness of Elkford, BC Canada. I have been scrapbooking for about 4.5 years and I am a true addict. Thankfully my boys understand my addiction which allows me creative time almost every day! I am the proud sketch artist and blog editor for the Scrapbook and Cards Today magazine and the lucky Co-President of weScap.com with one of my best friends, Tara. Thank you for this rockin' opportunity to come and create with you this month!
Here is the amazing sketch and LO Allison did for us!! Using our Fabulous stamps supplied to us by our Sept Sponsor... GELATINS!
Allison's LO
I got to use the beautiful Asian Garden set from Gelatins for my sketch creation. There were so many wonderful plant inspirations within the set but I just had to use the Asian grasses on my background. I stamped the grass image once to get the dark inked images and then a second image to get the light images. This helped add dimension to my page. I also stamped some leafy branches and coloured them with Copic markers to add to my frame. I took the blooms from the Gelatin's stamp set and stamped them on white cardstock and then airbrushed them to look like clouds. I know... flowers into clouds! Cool huh?!? I added a pretty orange birdie to my sky and voila... she was done! Thank you to the LCOM ladies for inviting me to create with them this month! I'm having a blast!

Natalie's LO
Calia's LO
SET: License Plate Letters and Numbers
I pulled my letters out of the tin leaving them on the plastic sheet. Inked the letters with embossing ink and inked the upper portion of my base paper. I used some black embossing powder and zapped it with my heat gun to emboss my letters. After cleaning my stamps, I stamped the word "GOOFBALL!!" on white cardstock using a black ink. I cut the letters out in a rectangle shape and used pop-dots to add some dimension to my title.

Emily's LO
I had the alpha ones, I stamped the "them" on cardstock with distess ink, then cut them out.
Darlene's LO
I received the Asian Garden stamps and knew they would be great for an outdoorsy type layout. My favorite in the kit was the cluster of leaves, so I stamped that with Timber Brown ink on green cardstock and cut around them. I wanted to use them for a border so attached under my row of photos. I also used the Timber Brown to stamp the little bird and cut around him for an embellishment.
Tara's LO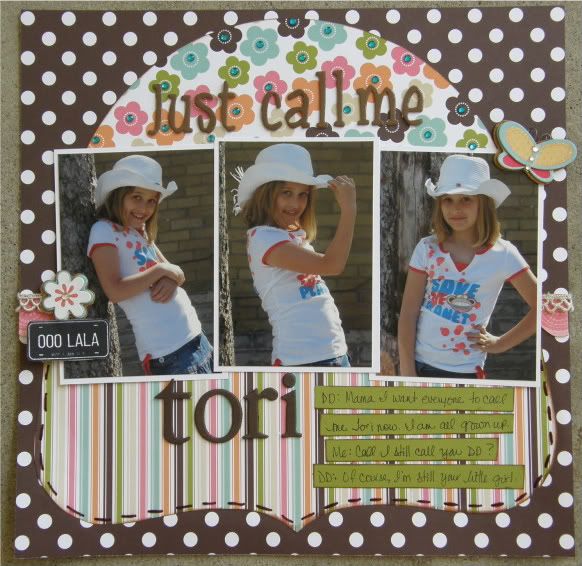 I have always been a fan of Gel-a-tins stamps and have acquired quite a collection already. Imagine my surprise when I received a set that I not only didn't have but always thought would be fun to use. I received the Vanity Plate Pick-Up Lines (
http://www.gelatinstamps.com/products/products_vanityplate.html
) and they are way cute!! I knew right away the one I wanted to use and the pictures as well. I stamped it a few times using different colors but I liked how the black Ranger Ink really provided a great, clear image. One thing to keep in mind when using stamps that require alot of color is to stamp on a "spongy" surface. I use a mouse pad and it works great. I thought I would do something fancy but these stamps speak for themselves and looked best 'as is'. Thanks Gel-a-tins for adding to my collection with such a fun stamp set!!
Tina's LO
I was also blessed to get the Asian Garden set! The possibilities with this set are endless!! I did the grass in 2 tones, the clouds and the bird all directly on the paper. I used different colors of ink and then topped them off with different colors of stickles to add dimention and sparkle! See my blog for some more detailed shots! :)
So there you have it!! Are you all ready to run out and buy some Gelatins stamps? i know I fell in love and I'm sure you will too!!
And I'm afraid I'm going to make you wait one more day for the winner of the Pink Paislee collection... so drop in tomorrow to find out who that lucky winner will be!!
So until then... Happy scrapping!